Woodcarving and Handicraft
In Oberammergau the fine art of wood carving dates back to medieval times.
The earliest documentation is a report from the year 1111 which states that monks from Rottenbuch brought "..the art to carve all sorts of small household items from Oberammergau.." into the Berchtesgaden area. The carving of religious motives most likely originates in the pilgrimage to Ettal
A traveller from Florence praised the detail and skill displayed in the woodcarvings of Oberammergauin travel report dating from 1520. In 1563 the abbot of Ettal even bestowed upon the Ammergau woodcarvers their own set of trade rules and regulations. Although it was customary in those times to sell your wares primarily on-site several distributors with Europe-wide branches sprang up in Oberammergauin the 18th century. Setting out from these branch offices so-called 'Kraxenträger', wandering salesmen utilizing a unique backpack for their wares, sold the carvings of Oberammergau.
Today approximately sixty active wood sculptors live in Oberammergau carving and selling almost anything.
To those who would like to know more about the history of the woodcarving handicraft prior to purchasing a unique memento we recommend a visit to the 'Pilatushaus'. Between May 15th and October 17th one may observe on a daily basis craftsmen and –women of all trades during the production of their creations in the 'Living Workshop'. One may even witness the 'birth' of a wooden figurine. No admission is charged.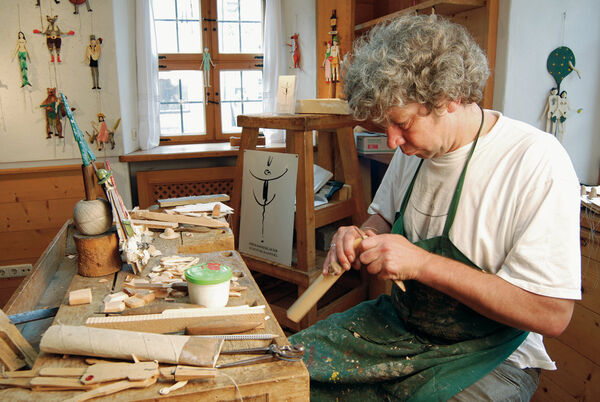 The name of Oberammergau is synonymous with traditional handicrafts, not only wood carvers but also potters, drum makers and several others are there
Details